DEPARTMENT OF CHEMICAL SCIENCES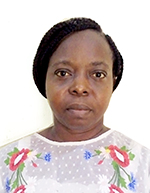 DR UGBAJA REGINA NGOZI
HOD
Brief History of The Department
The Department of Chemical Sciences is one of founding departments by the National University Commission to run in the Augustine University from its inception in 2015. It comprises the Chemistry and Biochemistry units.
The Department has grown from a two – man member (two lecturers) since 2015 to a sizeable group of lecturers numbering to six. This includes four lecturers on ground, one on a study leave abroad, and a laboratory technologist.
Our facilities have also expanded from a general chemistry laboratory with an addition of a separate biochemistry laboratory to accommodate our biochemistry specialty.
In the Chemical Science department, we believe in bringing the theoretical chemistry taught in our lecture rooms alive in our chemistry laboratories. This experience has been lived by all students who have passed through the Department of Chemical Sciences.
PHILOSOPHY, AIMS AND OBJECTIVES OF THE DEGREE PROGRAMMES
The Bachelor of Science (B.Sc.) Degree Programme in Chemistry and Biochemistry is designed to ensure adequate exposure of students in all areas of Chemistry and Biochemistry as well as take relevant courses in Biology, Physics, Mathematics, and Computer Science. Graduates of the programme therefore have enough skills to satisfy the manpower needs for Chemical Sciences Department in Industries (Petroleum, Pharmaceutical, Household Manufacturing, Polymer, Fine Chemicals, etc), Agriculture, Environmental Management, Medical, Research and Teaching. The programme also provides sufficient knowledge both theoretical principles and practical details that will help graduates of the Department to undertake self - employment and build up their own businesses thereby making them self – reliant. These are all in line with the vision, mission and objectives of setting up the University.
The aims and objectives of a degree programme in Chemistry / Biochemistry are:
To stimulate in the students sustained interest and enthusiasm in chemistry / biochemistry and their applications
To build in students a culture of continuing enquiry
To provide students with a solid and balanced base of Chemical / Biochemical knowledge and practical skills that are required for post- graduate study and research
To develop in students a range of skills applied in chemical and non-chemical areas, that can provide confidence for employment
To inculcate in students an appreciation of chemistry and biochemistry in all human endeavors.
STRUCTURE OF THE DEPARTMENT
Academic Structure
The Department provides teaching / practical skills level leading to the award of the degree of Bachelor of Science (B.Sc.) in Chemistry or Biochemistry.
Furthermore, extensive research in interdisciplinary or collaborative nature in the areas of environmental, toxicological and pharmaceutical chemistry exists. Opportunities also exist for interdisciplinary research and consultancy studies with staff from other Departments / units in the University such as Microbiology, Nematology, taxonomy, etc. The Department is equipped with state of the art laboratory with ample modern equipment and facilities.
Organizational Structure
The Department is run by the Head of Department with assistance of Course Advisers appointed for each level of the undergraduate programme. A committee system is also in place to assist with oversight functions and smooth running of the Department.
UNDERGRADUATE PROGRAMMES
Admission Requirements
Candidates for admission into undergraduate programmes of the Department must possess five O'level credit passes in English Language, Chemistry, Mathematics, Physics and Biology at not more than two sittings.
The requisite Unified Tertiary Matriculation Examination (UTME) subject combinations are Chemistry and any two of Physics, Biology and Mathematics.
Direct Entry Applicants: i. 'A' level passes in Chemistry and one of Physics or Mathematics is acceptable.
Graduation Requirements
The Department offers two degree programmes:
a 4-year B.Sc. degree programme in Chemistry
a 4-year B.Sc. degree programme in Biochemistry
The three classes of courses are clearly specified as compulsory, required and electives. Adequate allowance is given in each programme for the student's choice of electives within, and outside the Department.
The minimum requirement for graduation in the 4-year degree programme is a total credit of 128 units which include the University requirement of GST courses and University required courses.
Department of Chemical Sciences Staff