DEPARTMENT OF ACCOUNTING AND FINANCE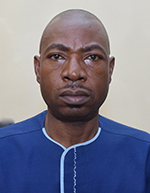 DR AGUGUOM THEOPHILUS ANAEKENWA
HOD
B.Sc. Accounting
Philosophy
The philosophy of the Accounting programme is to strengthen the intellectual capacity of students in the accounting discipline so as to equip them with adequate knowledge needed for the preparation and auditing of financial statements and accounts and in the analysis of the issues in the private and public sector of the Nigerian economy. Students will become well-formed accounting personnel who will contribute positively to the development of accounting practice.
Emphasis will be given to the knowledge of accounting science, critical thinking about, and in-depth analysis of business management information, and the acquisition of a capacity for ethical and competent professional performance.

Objectives
The objectives of the Accounting programme are to:
1. enable students develop the ability of using modern Accounting and Management techniques
2. enable students acquire the necessary professional competences required by Nigerian and International Accounting bodies.
3. Produce graduates who are ethical and generally competitive in the global village, and develop an entrepreneurial spirit in them capable of generating self-employment to the overall economic development of the country.
4. develop graduates who are able and motivated to keep learning and updating themselves, with good critical reasoning skills and problem-solving skills.
Admission and Matriculation Requirements
Candidates for the Bachelor of Science degree shall be accepted for a four-year programme through the Unified Tertiary Matriculation Examination (UTME) and for a three-year programme through Direct Entry. Admission into the four-year programme shall be based on the candidate's performance at both the UTME and the post-UTME screening of the Augustine University. In addition, the candidate should have a General Certificate of Education (GCE) Ordinary Level pass, or its equivalent, with at least five credits that must include English Language and Mathematics.
Candidates with post-secondary school certificates such as Advanced Level GCE (two A'Level credits), OND, NCE, and IB (International Baccalaureate) as well as some experience in business organizations, shall be considered for the three-year Bachelor of Science programme through direct entry. They must submit to JAMB a Direct Entry form together with evidence of their credentials at the same time as they submit their application to AUI online.
To be eligible to sit for any examinations, students will be expected to attend a minimum of 80% of the lectures of any course registered for. The School reserves the right to prevent any defaulting student from sitting for the relevant examination.
Period of Study and Requirements for the Award of a Degree
The normal period of study for a degree shall be eight semesters. The minimum number of course units for the award of a degree shall be 120.
The maximum number of semesters for the award of an honours degree shall be twelve semesters.
Graduation Requirements
1. To qualify for the award of a degree of Augustine University, a student is required to have:
2. Completed and passed the prescribed number of units including all compulsory courses specified by the University. Completed and met the standards for all required and elective courses.
3. Obtained the prescribed minimum CGPA

Department of Accounting and Finance Staff